So this post has nothing to do with bras, but it has a lot to do with sensitive skin. Also, by virtue of the topic, there could be some TMI, but to be of any help here, the info needs to be specific.
Cups are, quite simply, amazing. They really transform the whole period experience. Much of the time, I actually forget my period is happening. They are so far superior in comfort and function to tampons and pads, there is no comparison.
Let me give some background here: I have a great deal of experience with menstrual cups, or, moon cups, as I call them, which sounds so much nicer. Prior to that, I used the contraceptive cap for years; it's a little known option in the U.S., but easily obtained in the UK. And before I found the perfect cup for me, I used OB tampons, the brand with no applicator. In other words, I know this particular internal terrain very well.
OK, because this blog is not monetized I can tell a lot of blunt truths. So let me just say here that if you tried the most easily available brand in the U.S., the DivaCup, and it was a horrible experience, I am not at all surprised, but do not give up.
Look at the size of that beast. I shudder to remember the one and only time I tried a "small" (hah!) DivaCup, and almost gave up on the whole concept entirely. It remains the worst cup I've ever tried. Why? It's gigantic, for one thing. And it's harsh and rigid. Call it the Panache of cups. And that stem? Also rough and harsh and it dug in painfully.
Note: even when you manage to get a cup like this inserted, getting it out again can be far more painful. Cups should never cause you any pain.
And if
UTI's are a problem for you, note that

cups that are this large and rigid can compress and irritate the sensitive tissue of the urethra, which is basically a recipe for a UTI. Conversely, if this brand happens to suit your specific anatomy, and you're happy with it, that's great. But if not, then it may help to realize this is not a universal cup shape or style, and it does not suit a huge segment of women. It's a shame that many women come away with the idea that this is what all menstrual cups are.
I've tried other brands, including Lunette (less rigid and huge, but still leaning that way), Sckoon (thick and clunky, but softer), and others, none of which even merit a mention. The result: I found only one brand that works for me, that is comfy and a match for my shape. And because they offer so many combinations of size & shape, you'll very likely find a match for you, too. It is very rare for me to be so brand loyal, but this company deserves that loyalty.
MeLuna
(my moon) is a German brand and they do have a U.S. online
storefront

, but the link above is to their European online store. That's because there are far more choices there, for reasons I'll get into below.
Why does MeLuna blow other brands out of the water? Behold the vast landscape of choice. Choice of softness level. Choice of color. Choice of shape. Even choice of stem style....
Choices.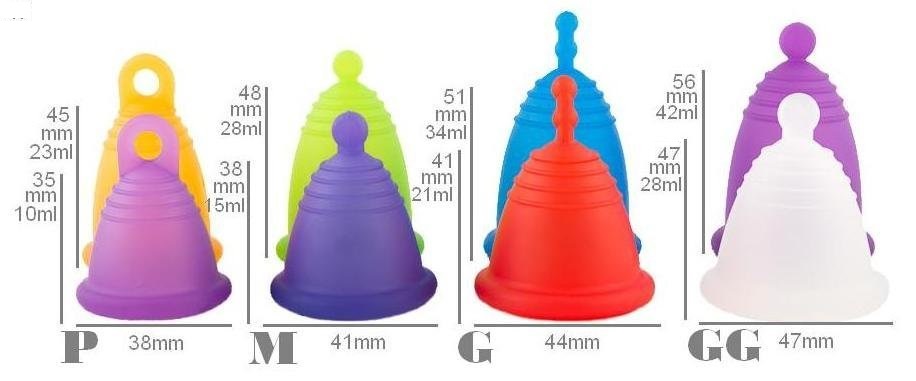 Here again, MeLuna demonstrates that they just get it. Along with 4 sizes: Small to X-Large, they offer 3 - three! - different levels of firmness. That is just an unheard of level of customization. It's the equivalent of a bra brand offering sizes 26A to 54J, all in both FOT and FOB options. It's hard to imagine that someone couldn't find the right fit.
There are some great blogs with cup reviews, and plenty of YouTube reviews as well, so you can find a great deal of info. Here is a really comprehensive one:
Menstrual Cup Reviews
As with any review, they are all going to be weighted somewhat toward what is important to the reviewer. In my case, that's comfort and sensitive skin issues. Most reviews I have read focus on cup capacity (not very important to me) and how easily they pop open upon insertion (also not as important to me, since I'm an experienced cup user).
How Do You Figure Out Which Style Is Right For You?
In my experience, the biggest factor that determines this is your own shape. Much like full-on-top vs. full-on-bottom. In this case, it's high cervix vs. low. (Cervix = that firm, doughnut-shaped ring that is the opening to the uterus) How do you know which you have? Time for some TMI.
Tampons. If you've used the more common applicator style, how did that go for you? If, when the plunger was pushed, you felt a bump of discomfort, or, if the tampon was not far enough in and sitting uncomfortably, that's a strong indication that you have a low cervix, i.e., it sits naturally lower in your body, giving you less vertical room in that area. Alternatively, if your problem is that you sometimes have trouble reaching the string to remove the tampon, your cervix is likely quite high.
Sex. If you routinely find certain positions painful, like something is being bumped, and there just isn't enough vertical room in there for what you're trying to accomplish, you almost certainly have a low cervix. Likewise, if ride 'em cowgirl is your go-to, you likely have a high cervix.
OK, now that we've all got those visuals in our heads, what does it mean for cup selection? It means that if you have a low cervix, your cup choices are greatly reduced. Just like bras for full-on-tops. But the good news here is that MeLuna actually makes a cup especially for you. It's called the Shorty. Nice, right? (In the pic above, the Shorties are in the front, with the Regulars behind them. And if you google it, you can find So.Much.Info. with pics and video, so I won't repeat all that here.)
It is more than just the Shorty's reduced length, however. It is also shaped differently: wider at the top, and much more tapered at the bottom. That last part is really important; the lack of the bulbous tip means that it won't compress or chafe against the tissue of the urethra or bladder, and that you should never be able to feel it when you are sitting. Ever. You are going to lose some capacity, which is perfectly fine as a trade-off for comfort and health.
In real terms, this means that on my heaviest day (which is not super-heavy, but probably on the heavy end of average for most) I would need to empty my size Small Shorty every 4 hours. In the Medium, I could go 6 hours. Whereas on all the other days of my period, I could go a full 8 or 9 hours.
By comparison, the Regular is more narrow at the top, but longer and bell-shaped, rather than pyramid-shaped. I can wear this style in a Soft, but it is not the right shape for me. (Another hint: if you notice reduced flow on your trips to the Ladies', that means the cup is pressing on your urethra, and interfering with your bladder's ability to fully empty and you are moving into UTI risk territory.)
Figured Out the Shape, What About Size & Firmness?
The size is a bit more tricky than the shape. Your cup size has virtually no correlation to your body or clothing size. Your best gauge here will be the tampons/sex litmus tests. For e.g., I have never used a super-sized tampon in my life. Likewise, the Medium Shorty is the largest cup that would ever be appropriate for me. If you have any issues with sensitivity or UTI's, my advice is to go smaller and softer. The drawbacks are that you may have to empty your cup more often, and there is a learning curve to getting a softer cup to pop open once inserted. I suspect this is the main reason that the U.S. storefront does not even offer the soft cups. American women don't have much experience with them, as they haven't been available here as long, and the firmer cups will indeed pop open easily - which also makes them more uncomfortable to remove.
I find that the Soft Shorties pop open more easily than the Soft Regulars due to the wider top. The Regular firmness pops open easily in either style. There is a 3rd firmness option, called Sport, and I have never tried it as it would be way too rigid for me. But it's a nice option if you have non-sensitive skin and really strong pelvic muscle tone, which would make using a Soft version impossible, since it couldn't open. The Sport version make leaks very unlikely because of the rigidity.
The Soft really can't be topped for comfort. It's often recommended for those who have less muscle tone, due to multiple childbirth, or other issues; the reason being, that stronger muscle tone would overpower the cup, keeping it collapsed. I can't really speak to that, as I'm child-free and don't have an issue with muscle tone, but that means it does take a bit more work to get the soft cups to pop open for me, but it is so, so worth it. There are techniques to do this, such as letting the cup unfold earlier in the insertion process, waiting a few seconds, then twisting at the end. Occasionally, such as on very light days, these techniques don't work, and then I simply use the Regular firmness Shorty in size Small. You can read about the many folding techniques for cups, kind of like menstrual origami, but for myself, I find the C-fold works best for me with softer cups, and the 7-fold for larger cups.
Basically, I think the Regular firmness will work well for most women, so if you are not an experienced cup user, it makes sense to start there. It's still far less rigid than the dreadful DivaCup and I can use it comfortably most of the time. But the Soft Shorty in size Small is what I choose 80% of the time.
Your final option is which stem to choose. Again, how great is that. All of the stems are pretty soft and unobtrusive, but the ball stem is the most popular, apparently. And I get why: it's quite soft and doesn't dig in any way, and they improved it a few years ago to make it flattened on two sides and easier to grip. On the Regular shape, you can opt for no stem at all, which I do, as I can't spare the extra room, and have no trouble reaching it, ever. However, if you have a high cervix, you have the awesome option of going for the sturdiest choice, the ring stem, and, if you still have trouble reaching the cup to remove it (I'll admit, I can't even imagine having this issue, but I know it exists) you can even buy a handy little tool that you use to hook the ring and remove it.
Your final, final option: Colors. Why would you settle for a dingy yellowy-clear cup when you don't (and shouldn't) have to? In addition to their usual rainbow of options, MeLuna comes out with 'limited edition' colors, like this fabulous Fairy Dust (violet glitter) that I acquired:
But my love affair with this brand does not stop there. Oh no, because they offer several other things that we, as American women, are unfairly deprived of. Namely, Soft Tampons. These are pure genius - and can be very difficult to find (at reasonable prices) on Amazon or eBay.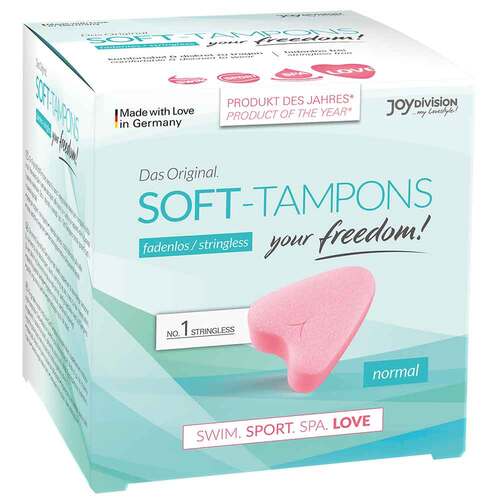 I love the tagline. That's right: these are perfect for tennis, sauna, and sex. They are nothing like the 'sea sponges' which I've also tried, and which I don't find to be soft at all, but do find to be leak-prone. But these are completely different: VERY soft synthetic foam. They are meant to be tossed after one use, so would get a little spendy if you used them exclusively, but if you have serious sensitivity issues, I imagine that would be completely worth it to you.
The beauty of these is that they are so soft and comfy, they can be used even if your skin is having a moment where it is irritated by everything else. They are heart-shaped darts and come in regular and mini. The mini especially are perfect for use during sex. They are completely undetectable and a partner would be unable to tell your period was even part of the equation. There is also a round version that I like equally well and provides slightly more coverage.
Finally, they have an awesome little gizmo that costs around $4 (that they appear to be out of now) that you can pop onto a water bottle and create a mini-bidet. I mean, why do we not have these awesome, low tech, inexpensive, life improving things on U.S. shelves? Oh, and that's the cherry on top of my love for MeLuna: they are incredibly reasonably priced, have regular specials, and cheerfully ship to the U.S. And they waive the high Euro tax, which is something like 17%.
If you've tried a cup and failed, and need some 'tech support' but don't want to ask your question publicly, feel free to submit a comment and include your email. I won't publish it and will instead respond to you directly.